TESTIMONIALS FOR JFLOWERS CUES AND CASES
Read what others have said after purchasing a JFlowers cue. Unbiased and honest feedback on the fastest-growing cue brand in North America.
Make sure you check out the independent and unbiased video reviews also.
THIS BREAK CUE IS AMAZING! After watching a few YouTube reviews, I finally pulled the trigger. It exceeded my expectations! It has excellent quality from how it looks, feels, and how it breaks a rack like a battering ram. The best part of all is the price! This cue has the same build quality as other expensive brands with similar specs. I highly recommend this if you are shopping for a new break cue.
This cue came light but added weight and it's a crazy nice break cue. Control is great and power is unmatched – thank you JFlowers!
Got this cue because I needed a Radial butt for my 314-3 shaft. I am loving the carbon fiber shaft that comes with this cue. I haven't chalked my 314 yet. This is a great cue.
I was planning to buy a predator air 2 but when i saw Lil'Chris video about the $300 carbon shaft cue I thought I'd git it a shot and i am glad i did it's so easy to jump with accuracy with this cue!

 This jump cue has a video review
Don't be fooled by the low price. This cue plays like a $1,000 cue! The shaft is like silk. The leather grip feels so nice even with the lightest grip. The tip is my only complaint but that's just my preference. Buy the cue put your own tip on it. I also highly recommend the extension it's only $35 more even on 7' tables I'll find myself using the extension rather than a rake.
I think this is one of the best beginner cues on the market. The price performance is exceptional. Here you get a cue cheaper than other manufacturers alone the carbon shaft costs. Only that this cue also has a carbon shaft which plays excellent. I am totally thrilled with this price-performance ratio.
Outstanding "bang for the buck" cue. Feels great, good balance, hits very well, and good looking to boot. Been my daily driver cue for a month now and don't plan on switching any time soon.
I bought this package and must say I'm beyond impresses. The soft hit of the cue is exactly what I was looking for. The case is amazing. Plenty of storage and lobe the setup. Maybe do a pack back strap style at some point 🙂 I also got the jforce break cue and I won't be breaking with anything else !!! Have been using mine for about a week now and to say I'm impressed is an understatement!!!!! This thing hammers the balls even when you don't him them hard. To be honest the most impressive part I've seen so far is the ability to jump with it. I've never been able to jump with a full length cue but it's a breeze with this thing. Im sold !!!!!
After researching most popular brands I bought this cue and I am so happy about my decision. It feels great! I got the carbon fiber shaft and immediately felt the difference in power. The main reason to purchase this one was the price. I didn't want to spend a lot of money to try a carbon fiber shaft, in case I wouldn't like it, but this one is a keeper. I've tried other brands and haven't noticed any difference just the brand. I got the blue one which is beautiful and keep getting compliments about it. It's totally worth it. Great value for the money
Bought this cue 15th of dec 2021 and damn its amazing!!!!! My gameplay changed the day i started playing with it. I have a lot of good feedback with it, good quality, amazing designs and for $319 with butt and shaft its a steal! Would highly recommend jflowers cue if you would like to own a carbon fiber shaft
What a great pleasure to do a review on this awesome cue. I was so impressed by the look, feel, sound, and playability compared to many other carbon fiber shafts that I have tried at an awesome price point for the entire cue! Give it a chance–you will be shocked by the quality!!
Got this cue on a bundle deal $399. Now it's $418, this cue for me is better than my predator 314 first edition, I love everything about it. This is an awesome cue! Before this cue I'm using a Predator 314 the first edition, I love the predator but I want to try the carbon fiber shafts, after a few search online I found reviews of the JFlowers cue on YouTube. After trying this I must say I find it better than the other CF shafts the sound is more natural, the balance is good and it's low deflection.
This case is very light and very comfortable, has a ton of space as well, totally happy with it.
Great stick for a great price with some very classy & detailed designs & of course a carbon fiber shaft is included if you opt for it. Well worth the inexpensive price. They also have great customer service & want to make sure you happy & fulfilled with your order.
This is my 3rd case all of the previous ones are leather very heavy and limited space for other stuff, this is my favorite case very light and a lot of room for everything plus it's water proof! Got this deal on a bundle $399 paid $439 with shipping. This is a good buy that's for sure.
I bought this cue about a month ago now. I tried a lot of break cues and just didn't have a good feel for any. Havnt seen any j flowers cues in Montana so I took a chance based on cue listings YouTube video. Fit,finish,quality matches cues double to triple the price. It hits like a truck. Couldn't be happier. Looking forward to my next j flowers which I hope is jf20-21.
I bought this cue from a friend who didn't like it. I think he's crazy! I love this cue. It simply the best cue I've ever owned or used.
Many people have come up to compliment the cue on how it looks. It's great quality. I'm very happy with my purchase.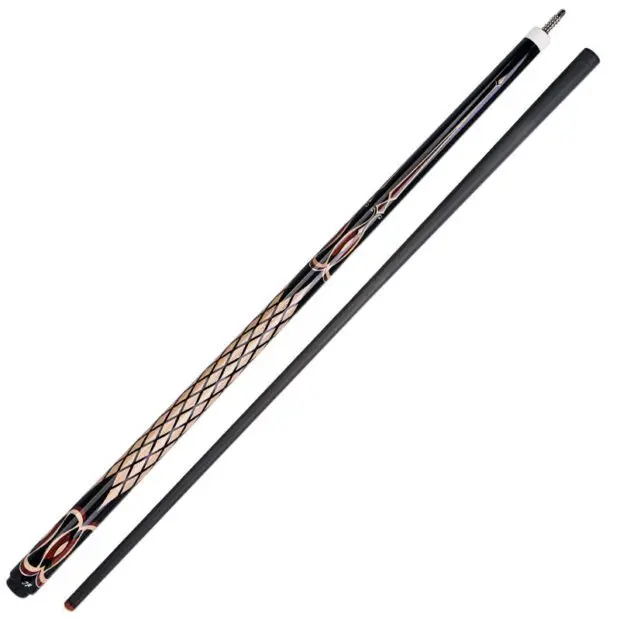 Terrific cue! Fit and finish is nice and the carbon fiber shaft is terrific. Very low deflection and the feel of the hit is great!
Purchased this cue in 2021 and absolutely love it! Has changed my game immensely allowing me to adjust less for deflection than the standard cue I was using before. Price point is unmatched. Thanks JFlowers!
I've got this cue for about one year and i'm very satisfied. I've spent less money than other famous brand and i've got the same result.
Thank you JFlowers!
Great beginner cue with a carbon fiber option. Feels nice and solid to play with!
I purchased this stick back in September 2022 and I love it! I was always taught a good pool player can play well with any cue and that is 100% true, but I can definitely see how the low deflective nature of this carbon fiber shaft can make a huge difference in my ability to pocket balls. The cue feels good on the hit and fit and finish is excellent. Very pleased with my purchase. Definitely recommend to anyone looking to get a cue with a carbon fiber shaft.
We encourage all customers to leave their reviews on the product pages!
UNBIASED VIDEO REVIEWS OF JFLOWERS CUES