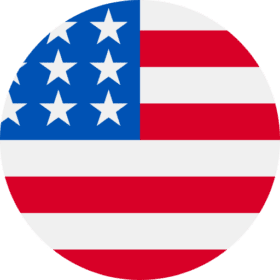 LIMITED EDITION! DEVELOPED AND CUSTOMIZED IN THE US! BY PLAYERS – FOR PLAYERS!
Choose an aerospace-grade carbon fiber or low-deflection wooden shaft (Radial pin. 14.5-inch pro taper) at no extra cost. A 12.5 mm Moori medium tip is standard, but Taom, Kamui, and other high-quality tips are available in 11.8 mm, 12.5 mm, and 12.9 mm diameters.
There are a few reasons JFlowers is the fastest-growing cue brand in North America! Our affordable pool cues look and perform like expensive cues – offering outstanding value and high-end choices!
AEROGRADE
Our aerograde carbon fiber shaft or low-deflection wood shaft is available in 11.8, 12.5 and 12.9 mm. The standard pin is a 3/8-8 Radial and the tip is a Moori medium
(other tip options available).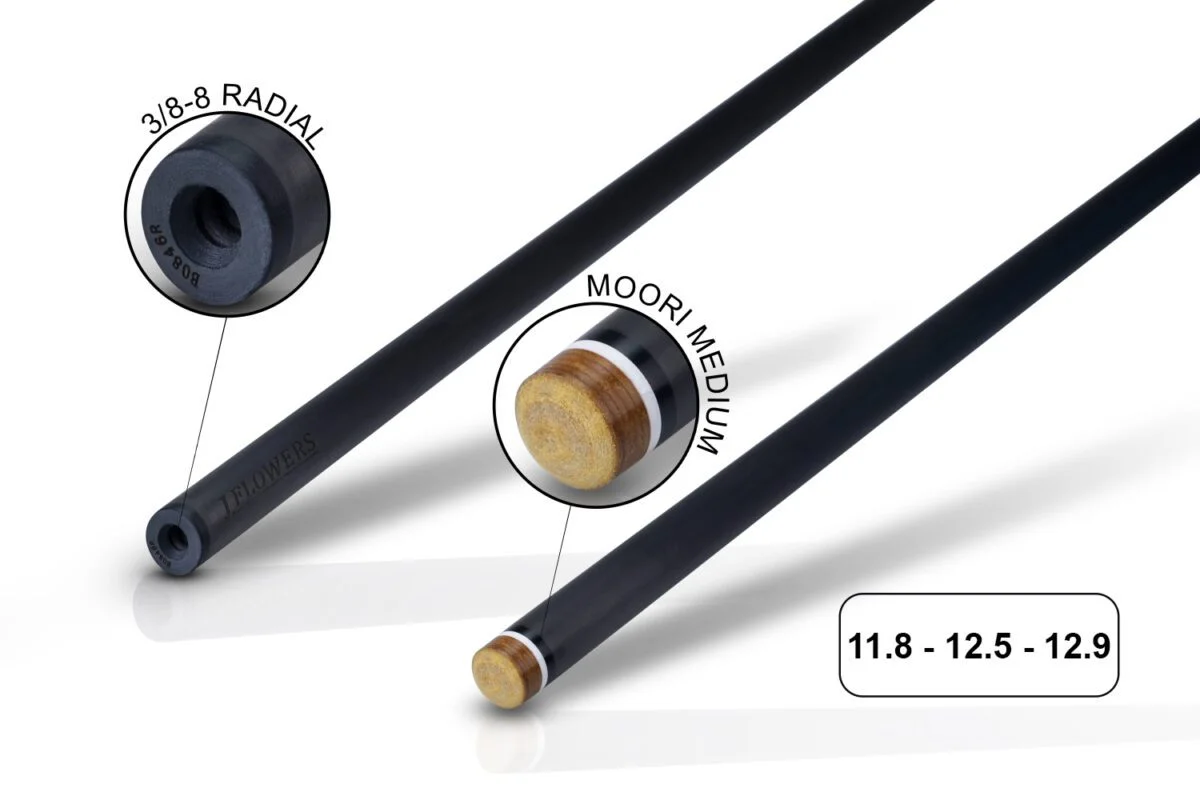 EXTENSION READY
The Dante series bumper is extension ready.
A choice of 6″ or 8″ is available to order. (Depicted cue: Dante II)
SIGHT PLATE
Besides tip, wrap, and shaft – another customization option we offer is a choice between a black or white "sight plate".
TECHNICAL SPECIFICATIONS
| | | | |
| --- | --- | --- | --- |
| WEIGHT | TIP | PIN | SHAFT |
| 19-19,5 oz | Standard | 3/8-8 (Radial) | Carbon fiber or Low Deflection wood |
| LENGTH | TIP SIZE | FERRULE | BUTT |
| 58″ | 11.8 – 12.5 – 12.9 mm | TT PC | Maple |
JFLOWERS CARBON FIBER SHAFT COMPARISON CHART
The default shaft option for all JFlowers cues is the Classic – Low Deflection Carbon Fiber Shaft. Nevertheless, you have the opportunity to enhance your cue's performance by opting for the Crown – Very Low Deflection Carbon Fiber Shaft, available for just an extra $70, or the top-tier S.M.O. – Super Low Deflection Carbon Fiber Shaft for an additional $210. Additionally, if you prefer, you can purchase any of these exceptional shafts separately.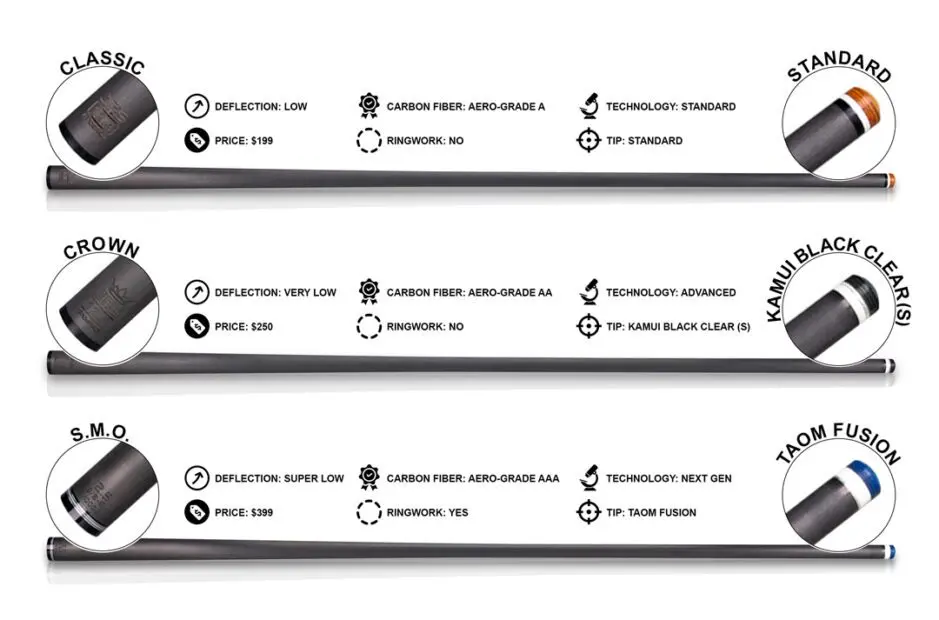 CHECK OUT THE SISTER CUE; DANTE ||
The choice of Dennis Orcollo! Like its sister cue (Dante I), this Pale Horse offers no purgatory. The JFS: Dante II is a heart-stopping wraith. Its stark white design with subtle crimson and jet-black weaponry accents frame a "white lizard" leather wrap. This is your opponent's Armageddon.
Read more